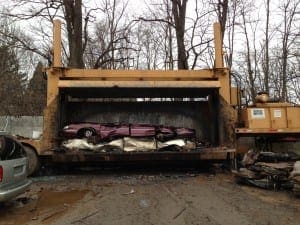 If you live in the Rochester, NY area and have a junk car just sitting around taking up space in your yard, driveway or garage, now is the time to call Northside Salvage Yard. We will pay you cash on the spot for that junk car and, best of all, we will pick it up for free with our same day service! Not only is our service the best in the Rochester area, but our payouts for unwanted vehicles are the highest in the area as well. Plus, unlike other salvage yards, our cash payouts are based on the value of the vehicle, not just its weight.
Northside Salvage Yard is a locally owned and operated business that has been proudly serving the Rochester area for over fifty years. We have grown to be the largest automobile recycling company in the Rochester and the surrounding area and we pay our customers the highest prices in Rochester for their unwanted vehicles. Over the years we have helped thousands of people in the Rochester community turn their unwanted cars and trucks into cash in their pocket.
Furthermore, you can rest assured that our upgraded facilities will dispose of your unwanted vehicle in the most environmentally friendly manner possible. Other salvage yards cannot make the same promise.
Our fast cash 4 cars form makes it so easy. Simply click here to fill out the form and you can have cash in your hand for your old junk car within hours! Worried that you have misplaced the title and can't find the keys because you haven't been able to drive the car in years? No problem! You don't need a title or keys to sell your unwanted vehicle to Northside Salvage Yard. We buy all vehicles, whether old or new. We know you are busy, so we have radio dispatched trucks on call that are ready to go once you have decided to sell your unwanted vehicle to Northside Salvage Yard.
Get that old car out of your yard and get cash in your pocket. The friendly staff of Northside Salvage Yard is famous in the Rochester area for our excellent service and for our fast and free pick-up of unwanted vehicles. As the largest automobile recycler in town, we buy more vehicles than anyone else, which puts us in the position to offer the highest payouts to our customers. Call Northside Salvage Yard today and let us take that unwanted vehicle off your hands and give you cash to put in your pocket!