About Northside Salvage – Rochester's Largest Auto Crusher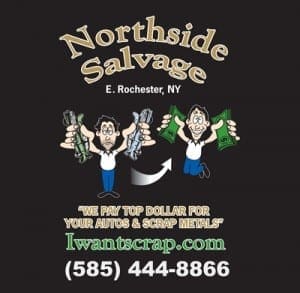 Northside Salvage Yard has been locally owned and family operated serving the Rochester community and surrounding areas for over fifty years. We pride ourselves on being able to pay the highest prices in town for your unwanted vehicle while giving fast, free, and friendly pickup service. Over the years we have grown to be the largest automobile recycler in the Rochester area and we have upgraded our facilities to ensure that your vehicle is disposed of in the most environmentally friendly way.
More Than Just Junk Cars – Buy and Sell Used Auto Parts and Scrap Metal
We now are also able to pay competitive prices on all of your automotive scrap including aluminum wheels, catalytic converters, radiators, and more. With such a high volume of cars we also offer a wide variety of new and used auto parts from foreign to domestic, late model to older classics. We test, guarantee, and warranty all our parts to ensure your satisfaction. We look forward on continuing to improve so that we can offer even higher prices for your vehicles and scrap metals, while keeping our part prices affordable. We invite you to call or to stop at one of our three locations and we look forward to serving you in the future.